EVO's Game-Changing Base Gels
Five years in the making, Bio Sculpture is finally ready to reveal its brand new, game-changing Evo Gel bases. These bases have been uniquely designed with the highest grade ingredients to ensure exceptional long lasting wear for every nail type.
A huge amount of research & development has been invested to ensure a perfect balance between health, performance and ease-of-use.
Below is an outline of the innovative EVO Gel Bases and their uses:
EVO Flex Base

EVO Flex is a new, high-performing gel formulation that combines extreme flexibility with impressive adhesion properties to create an exceptional long wear solution to a wide range of nail types.
Reasons you'll love EVO Flex:
Gentle formulation dramatically improves the health of the nail
Balanced viscosity for perfect control and building the Upper Arch
Flexible polymer structure perfect for soft, normal, short, or damaged nails
Reliable adhesive properties resulting in exceptional long wear
Repairs broken nails using silk
Perfect for:
Short, normal, soft nails
Nails that are damaged or are prone to lifting
Adding strength to soft nails
Building a beautiful upper arch
EVO Contour Base & Build

Evo Contour Base & Build is your new favourite builder gel, focusing on delivering strength, support and extreme adhesion.
The secret to Evo Contour's performance lies within its unique formulation, where its strength is carefully balanced with an elasticity that enables a 3 in 1 Base, Build and Extend application. The result is long lasting and durable extensions that supports and protects the natural nail and are resistant to breaking or cracking.
With Evo Contour Base & Build, your manicure is not moving anywhere with this brilliant base coat.
Reasons you'll love Evo Contour Base & Build
High Performing adhesive properties means a long lasting result
Durable extensions using Create long lasting durable extensions
Fast curing in just 30 seconds
Healthy nail formulation with low odour
Builds beautiful Upper Arches and extensions
Simple application with no need for additional bases, primers or bonders
Perfect for:
Clients wanting long lasting manicures
Time saving, apply Base, Upper Arch and Extension with just 1 product
Clients with long nails needing stronger support
EVO Oxygenating Base

Evo Oxygenating Base is a world first medical grade formulation specially designed with nail health in mind. The Evo base polymer is created utilising innovative oxygenating properties that allow the effective permeation of moisture from the nail bed, achieving a more balanced level of nail hydration that helps to support the health of the natural nail.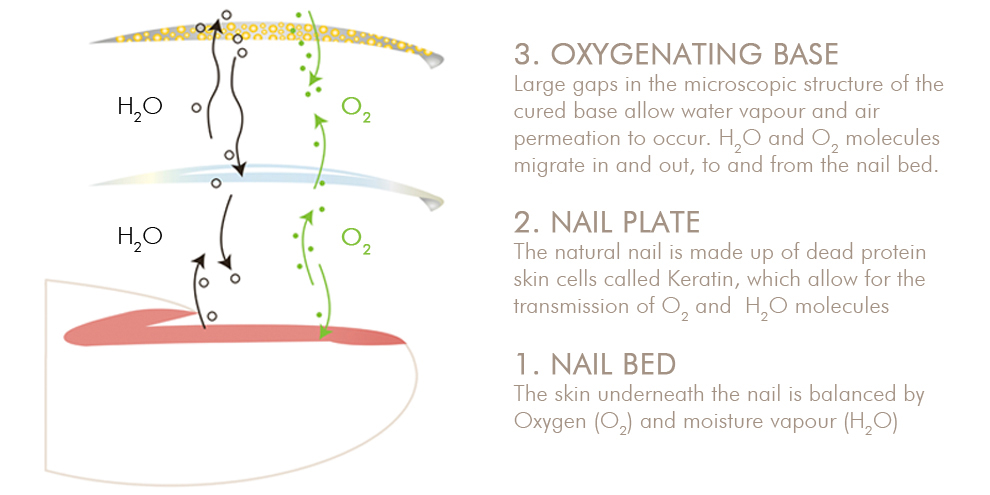 Reason's you'll love Evo Oxygenating Base:
Medical Grade Formulation for optimal nail health
Oxygenating Polymer structure allows for permeation of moisture from nail bed
Versatile properties allow long lasting, beautiful extensions
Glueless Tips application (yes, no glue required!)
Fast application and cures in just 30 seconds

What Is EVO Gel?
EVO Gel is a complete gel system that has been carefully formulated by our very own chemists to provide the perfect balance between performance, longevity and health.
Why you'll love the EVO Gel system:
Utilises proprietary polymer technologies created with the highest quality, safety-tested ingredients
Innovative products designed with nail health in mind
Multi-functional base coats that protect, build, and enhance natural nails
Reduced heat spikes thanks to our unique formulations
Manufactured and bottled by award-winning Bio Sculpture chemists in South Africa, with over 30 years expertise
Long lasting results, 3+ weeks wear, with mirror shine
Highly pigmented colours
For more information about the EVO Gel system, register your interest here or contact Bio Beauty Concepts on 02 8218 4500 or visit www.biobeautyconcepts.com.au